---
---
Pride of Dr. Virambhai Godhaniya Institute
Congratulations to the Students, Staff & Parents
College Topper : 2018-19
| | | | |
| --- | --- | --- | --- |
| | | | |
| Bapodara Hetal Rambhai | Maru Sharda Samatbhai | Mokariya Pooja Pravinbhai | Solanki Darshana Maheshbhai |
| B.A. (Economics) Sem.- 6 | B.Sc. (Home Sc.) Sem.- 6 | B.Com. (A/F) Sem.- 6 | B.Com. (IT) Sem.- 6 |
| Gujarati Medium | Gujarati Medium | Gujarati Medium | English Medium |
| 80.90 % | 84.80 % | 89.50 % | 88.30 % |
University Topper : 2017-18
| | | | |
| --- | --- | --- | --- |
| | | | |
| Sutreja Hetal | Nandha Vibhuti | Mokariya Mital | Somaiya Kiran |
| B.Sc. (Home Sc.) | B.Sc. (Home Sc.) | B. Com. (A/F) | B. Com. (IT) |
| Gujarati Medium | Gujarati Medium | Gujarati Medium | Gujarati Medium |
| | | 84.05 % | 82.61 % |
| 1st in University | 3rd in University | 3rd in University | 10th in University |
College Toppers
Rank

B.A.

B.Com.

B.Sc. (Home Science)

1

Pandavadra Jayshree Rajabhai

College GoldMedalist

Mokariya Mital Pravinbhai


College GoldMedalist

Sutreja Hetal Merubhai

University & College GoldMedalist

2

Bhimbha Shanti Ramshibhai

Somaiya Kiran Harish

Nandha Vibhuti

3

Tukadiya Arti Laljibhai

Lodhari Bhavana Devaji

Vara Heena Pravinbhai

4

Daki Kajalben Sukabhai

Parmar Devishaben Lakhabhai

Joshi Vaishai Mohanbhai

5

Modhwadiya Arti Jaymalbhai

Vara Avani Babubhai

Kuchhadiya Rambhi Boghabhai

6

Ranavaya Rekha Arbhambhai

Jani Priya Himanshubhai

Goraniya Daxaben Karshanbhai

7

Gohel Niruben Mavjibhai

Bhavnani Nishaben Shreechandbhai
Thakrar Megha Nitinbhai

Jungi Harsida Devjibhai

8

Odedara Manisha Nagabhai

Kotecha Avani Jayeshbhai

Shingrakhiya Nishaben Pravinbhai

9

Odedara Manishaben Bhimabhai

Chandegara Disha Mansukh

Khunti Ridhdhi Bhurabhai

10

Parmar Payalben Kanjibhai

Salet Chandani Sureshbhai

Sutreja Divya Nathabhai
Achievements by Staff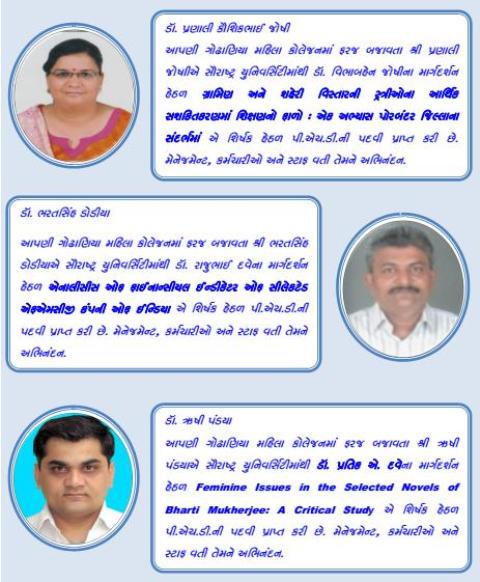 Dr. Virambhai Godhaniya College of Arts, Commerce, Home Science and Information Technology for Girls was founded by the Shri Maldevji Odedara Smarak Trust, Porbandar in 1988. It is a Grant-in-Aid college affiliated to Saurashtra University, Rajkot and Bhakt Kavi Narsinh Mehta University, Junagadh. This institute of higher education is a non-profit establishment offering undergraduate courses in the faculties of Arts (B.A.), Commerce (B.Com. with A & F), Home Science (B.Sc.) and Information Technology (B.Com. with Computer-Science). It is centrally located in Porbandar, in Gujarat & caters specifically to the students coming from the weaker sections of the society.
The college is located in the heart of city. Its aim is to achieve excellence in academic education. It is devoted to preparing citizens for the nation. Its emphasis is on sound teaching & learning through value-based education which prepare each student to reach her potential for a satisfying life emphasizing the dignity of the individual and the continuous educational process of the society.The college believes in national integration and has an open admission policy, encouraging enrollments of girls irrespective of income, class, caste, region, religion or creed. At present the college has a strength of about 1784 students coming from all the sections of the society.
Again the undergraduate students have to pay a bare minimum of fees, such as special fees for laboratories, examination, library, sports and other co-curricular activities. It also includes a library with 19589 books. In addition there are three Computer Laboratories & two fifth generation Language Laboratories consisting of highly configured systems with latest software. It also encourages students to actively participate in youth festivals, sports and cultural activities as and when organized by Saurashtra University, Rajkot.
The Grant-in-aid Girls' college offers the faculties of Arts, Commerce & Home Science. The faculty of Arts offers courses in English, Hindi, Sanskrit, Gujarati, Sociology & Economics as the Core subjects & Psychology as an Elective subject. In the faculty of Commerce, two optional streams have been offered i.e. Accountancy & Finance and Computer Science. The faculty of Home Science (B.Sc.) offers instruction in Physiological Anatomy, Child Development, Home Management, Dress Designing, Interior Decoration, Hotel Management and Tailoring & Cutting. The Home Science faculty also has a well equipped laboratory. Instruction is provided to manage Food and Nutrition, Kitchen, Garden, Marriages, Family relationships, Children welfare, Educational extension and so on.
In addition the college has a Post Graduate Centre in English and Commerce (Both English and Gujarati Medium) & Proposes to start Post Graduate Centres in Sanskrit, Hindi, Economics & Sociology as well. The College also has introduced Career Oriented Programmes (COP) in Spoken English, Translation Proficiency, Food and Nutrition, Women Empowerment and Vedic Mathematics. The College has also got itself assessed and reaccredited with a CGPA of 2.84 by NAAC (National Assessement & Accreditation Council, Bangalore) in September 2017 and by Knowledge Consortium of Gujarat (KCG), Ahmedabad with a CGPA 3.02 in May, 2015.
We have a teaching staff of 20 full-time experts and as many as 17 Visiting Lecturers, who are imparting instructions in various disciplines. The overall result maintained by the college is up to 99% in the University exams. Among the Administrative Staff we have 14 personnel who take care of maintaining the entire campus apart from executing official duties assigned to them. The Trust also has two hostels that could easily accommodate around 900 students.